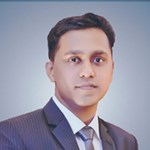 Deputy Manager, Network Post-Sales rajib[dot]letsconfig.com Dhaka, Bangladesh
Hey, I'm a network engineer who loves to design, implement and maintain networks. I have worked with many companies ranging from small enterprise network to nationwide, involving multi-vendor environment with major protocols.
Deputy Manager
Company: Confidential Sep 2017 – Present
Working as technical project manager for critical projects.
Working as project lead for Telco and large enterprise projects.
Providing L3 support for network devices to the Telco Operators In Bangladesh according Service Level Agreement.
Attending to all the technical needs of customer and their network concerns.
Carrying out research on new network functions and feature that could be useful to the company.
Senior Engineer
Company: Confidential Aug 2014 – Sep 2017
Design, Implementation and maintenance of Data center, enterprise core & access network.
Planning, Implementation & operation of Network security devices (FW, IPS,VPN)
Hardware based Application load balancing configuration & management
Anti-Virus, Anti-Spam, Web-Filtering, Content-Filtering and Web-Application Control
Provisioning, fault-handling/troubleshooting of network service requests.