Cisco Nexus Training : Go from Beginner to Advanced!
Trainer Details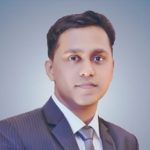 Name: Rajib Kumer Das
Years of Experience: 9+ years
Customer Base: Telecom Operators, Banks, Large Enterprise
Expertise: Network Design, Implementation, and Support in Multi-vendor environment.
Nexus Product Line: N9K, N7K, N5K, N3K, N2K.
Session Info:
Mode: Remote (Webex)
Duration: 11 days (one lesson each day, and around 1 hr. per day
Date & Time: Convenient time will be fixed for both
LAB: EVE/GNS3 with VIRL images (all possible lab will be shown
Table Of Content:
1. NX-OS Basic Operations
Introduction to Cisco Nexus
Cisco Nexis Product Family
Licenses detailed explanation
Features and Feature-Set
Initial Setup of Cisco Nexus
2. Virtual Device Context ( VDC)
VDC concepts explanation
VDC creation and Deletion
3. Cisco Nexus 2000 (FEX)
Understanding Fabric Extenders
FEX Configuration
4. vPC ( Virtual Port Channel)
Understanding vPC
Configuring vPC Peer Keepalive
Configuring vPC Peer Link
Configuring Port Channels
Simple vPC Configuration
Multiple vPC (Double vPC)
5. Fabric Path in Cisco Nexus 7000 & 5000
Fabric Path Overview
Traditional MAC Learning
Conversational MAC Learning
Initial Configuration
Switch ID in Fabric Path
6. FHRP ( First Hop Redundancy Protocols)
HSRP Configuration in Cisco Nexus Environment
Securing HSRP
Lab on VRRP
Lab on GLBP
7. Routing Protocols
8. Additional Labs
Setting up Checkpoints
Setting up Rollbacks
PVLAN in Cisco Nexus
RPVST+ Configuration
Altering Timers in STP
9. OTV (Overlay Transport Virtualization )
Understanding OTV
OTV LAB
10. RBAC & DHCP Snooping
11. Cisco Nexus Capture
Understanding Capture Option
SPAN
ERSPAN
Ethanlyzer
Price: $200 (one-to-one)
Price: $500 (3 person)
Price: $1000 (No limitation)
Mode of Payment: Credit Card
If you are interested, please contact using below form.