Cisco Nexus Training : Go from Beginner to Advanced!
Trainer Details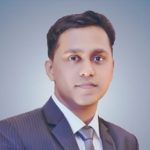 Name: Rajib Kumer Das
Current Position: Asst. Manager, Network Support and Implementation
Years of Experience: Around 8 years
Customer Base: Telecom Operators, Banks, Large Enterprise
Expertise: Network Design, Implementation, and Support in Multi-vendor environment.
Nexus Product Line: N9K, N7K, N5K, N3K, N2K.
Session Info:
Mode: Remote (Webex)
Duration: 11 days (one lesson each day, and around 1 hr. per day
Date & Time: Convenient time will be fixed for both
LAB: EVE/GNS3 with VIRL images (all possible lab will be shown
Table Of Content:
Price: $200 (one-to-one)
Price: $500 (3 person)
Price: $1000 (No limitation)
Mode of Payment: Credit Card
If you are interested, please contact using below form.