F5 BIG-IP Local Traffic Manager (LTM) Training!
Trainer Details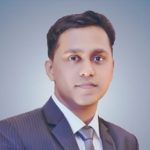 Name: Rajib Kumer Das
Years of Experience: 8+ years
Customer Base: Telecom Operators, Banks, Large Enterprise
Expertise: Network Design, Implementation, and Support in Multi-vendor environment.
Session Info:
Mode: Remote (Webex/Zoom)
Duration: 24+ hours
Date & Time: Convenient time will be fixed for both
LAB: VMware Workstation
Training Type: Basic
Table Of Content:
Welcome to F5 Big-IP LTM training
Preparing your F5 Big-IP LTM LAB
Startup Configuration
Adding Web Server to your LAB
Understanding Nodes, Pools, and Member
Understanding Virtual Server
Static Load Balancing
Dynamic Load Balancing
Priority Based Pool Member
NAT
Persistence Profile
SNAT
SSL Profile
iRule
iAPP
Understanding HA
HA Configuration
CLI Fundamentals
QKView and iHealth
Software update
Price: $300 (one-to-one)
Mode of Payment: Credit Card
If you are interested, please contact using below form.