In this Palo Alto Firewall configuration tutorial, we will learn to Activate Licenses and Subscriptions. This process is very simple and straight forward. Hope this will be helpful.
To activate licenses and subscriptions, you need to create an account in Palo Alto support portal. To create your account, you need to go to Palo Alto Support portal and follow the instructions. Here note that, serial number of a Palo Alto firewall is needed to create an account.

After completing the account, we can move for the device registration and then for the licensing. Below are the steps-
Step#1: First of all, login Palo Alto support portal (https://support.paloaltonetworks.com).
Step#2: After login to the account, go to Assets >> Device >> Register New Device.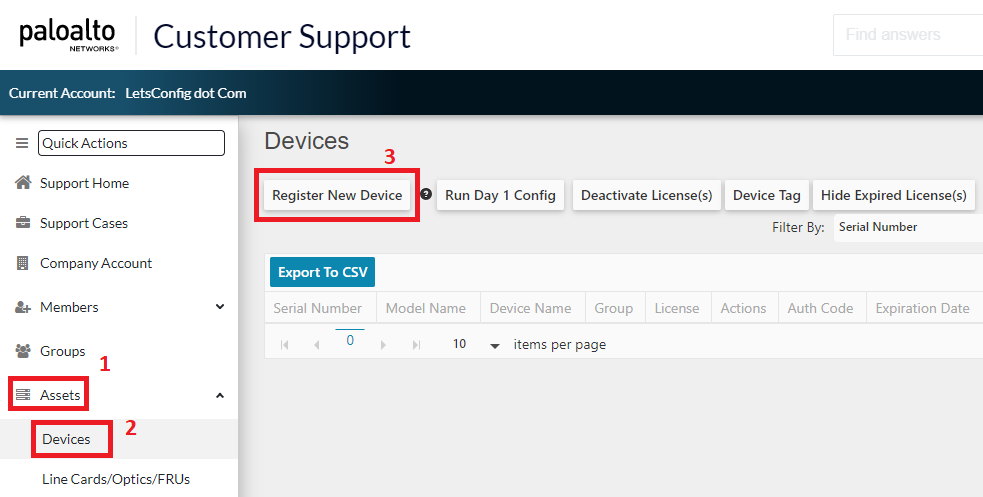 Step#3: In this section, you will be asked to add your device details. In our example, we are going to register a physical appliance (PA-820). So, we are choosing Register device using Serial Number or Authorization Code. We need to add serial number of our firewall and its location. After adding all necessary details, you need to press Agree and Submit.
Step#4: After registering a device, you need to add all the licenses for that device. To do that, click on "Action".

Step#5: You need to add authorization code (Palo Alto will provide after purchasing) for each of Licenses and Subscriptions. Select Activate Auth-Code and then add the code, and finally click on Agree and Submit to add the licenses.
Below are an example of adding the authorization code.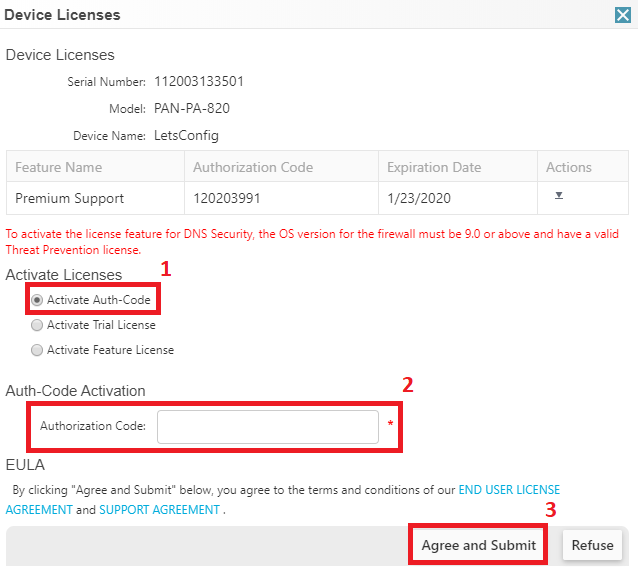 In my case, i have added four Auth-Code for four separate licenses features (Threat Prevention, PAN-DB URL Filtering, WildFire License, Premium Support).
If you check below image, then you will find that, my all 4 licenses will be expired on 23-Nov-2020.

Activating Licenses in PaloAlto Firewalls
You can activate your licenses in 3 different ways.
Retrieve license keys from license server:
This is the easiest way to activating licenses in PaloAlto Firewalls. You only need to click Retrieve license keys from license server, licenses will be automatically added on your Palo Alto Firewall.
Before choosing this option, you need to make sure, your management interface has internet facilities. It's because, by default, Palo Alto firewall use management interface as the source for all management services. If your management interface does not have internet, then you need to change the source interface for accessing/retrieving license key. To do that, follow below steps.
First, go to Device >> Setup >> Services >> Service Route Configuration.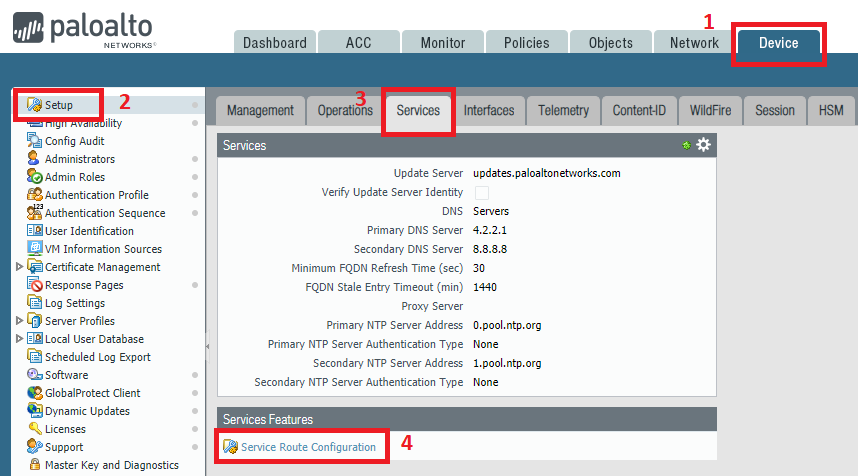 Now, select Customize >> Palo Alto Networks Services and then select desired source interface and IP address.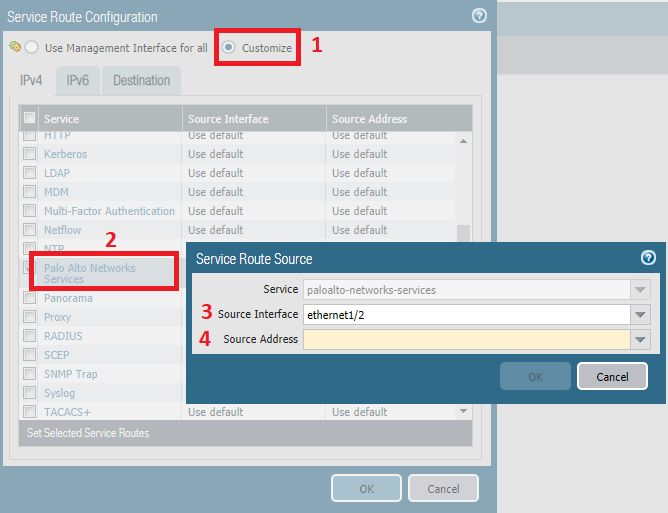 Activate feature using authorization code:
You can add your Auth-Code directly here and follow given instructions.
Manually upload license key:
If your devices are in offline mode, then you can choose this option for activating licenses in PaloAlto firewalls. In this option, you need to download licenses file from PA support portal (support.paloaltonetworks.com).

Lastly, we need to upload licenses file in Palo Alto firewall by clicking Manually upload license key option.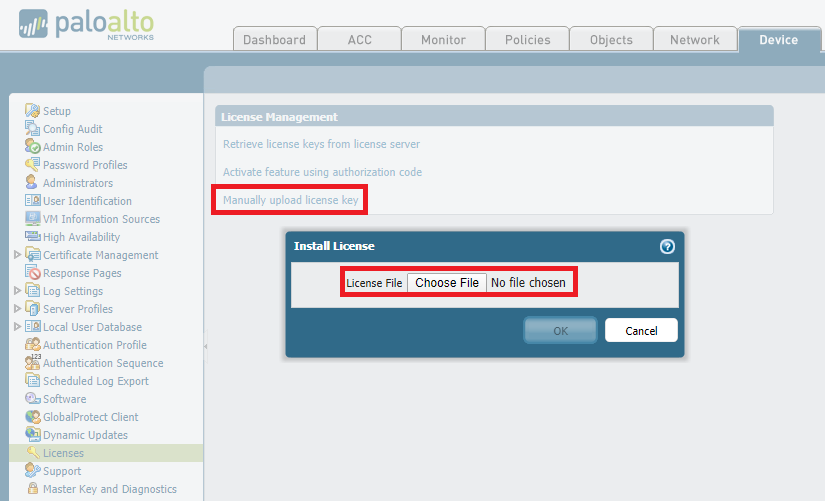 If your licenses added successfully, you will be able to see them on Device >> Licenses. Let me know, if you are facing any issue.