PAN-OS upgradation process depends on whether it's in high availability (HA) or standalone configuration. In this lesson, we will learn to Upgrade PAN-OS on a Standalone Palo Alto Firewall. So, let's get started.
Backup:
You should take a backup before up-gradating your firewall. To take backup, you need to go Device >> Setup >> Operations. Now click on Export named configuration snapshot, select running-config.xml from drop-down menu and hit OK.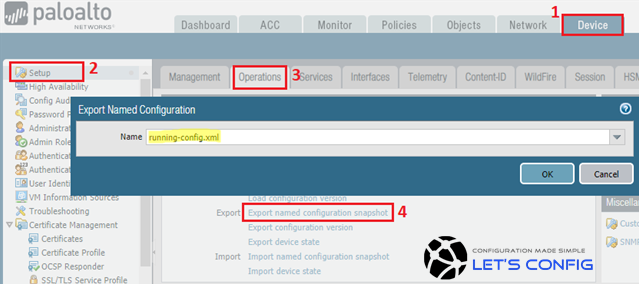 Upgrade Path:
You need to download base image on your firewall, before installing maintenance release image. Below are the example of the base image and maintenance release image in Palo Alto.
Base Image: 9.1.0
Maintenance Release Image: 9.1.1
If you go to download Maintenance Release first, you will see below error message from Palo Alto. We were trying to download 9.1.1 before 9.1.0 version.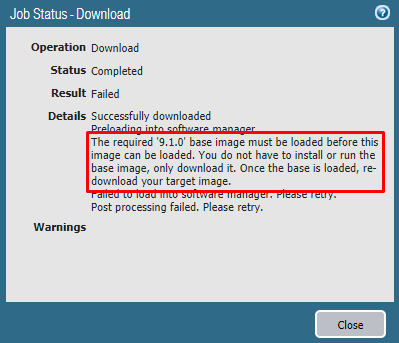 IMPORTANT: Before upgrading it's recommended to check release note.
Software:
You can download software directly on your firewall if you have a Premium Support License and Internet connection for that device. Otherwise, you need to download PAN-OS from https://support.paloaltonetworks.com and upload it manually.
Direct Download on Firewall:
To download directly on your firewall, you need to go Device >> Software and then click on Check Now to see all available PAN-OS images. After that, download your desire base image by clicking Download from Action column of that image. After completing the download of the base image, go for maintenance image release.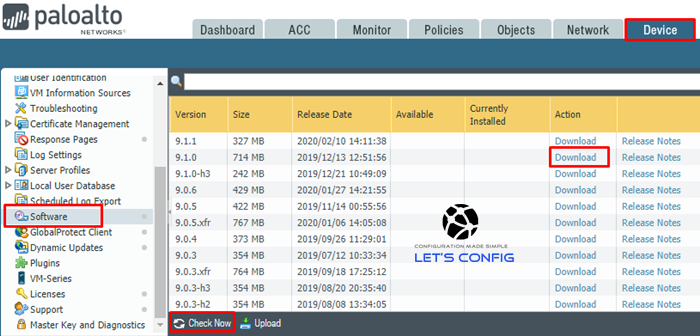 By uploading Pan-OS:
To upload your software, you need to go Device >> Software and click Upload. Now select the file from your local device and click OK. You need to upload both base image and maintenance image.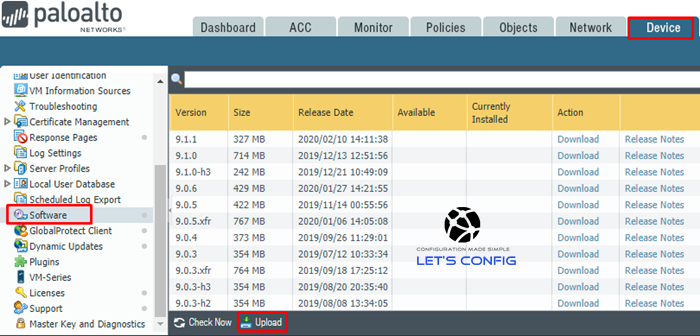 Install Software:
In the same location (Device >> Software), click Install on Action column for that particular PAN-OS. In my case, it's 9.1.1.

It will show a warning sign, hit OK to continue. Now, you will be able to see the progress bar like below.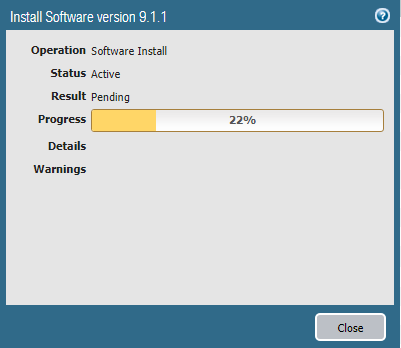 After completing installation process, it will ask to reboot. You need to hit Yes to continue.
Verification
To verify, go to the Dashboard and check General Information section. It's clearly showing that, we have successfully upgraded to 9.1.1 version.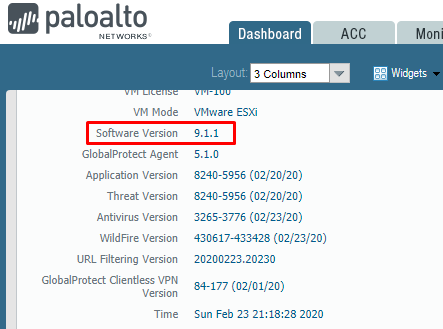 You also can verify it from Device >> Software page. Hope this will help.